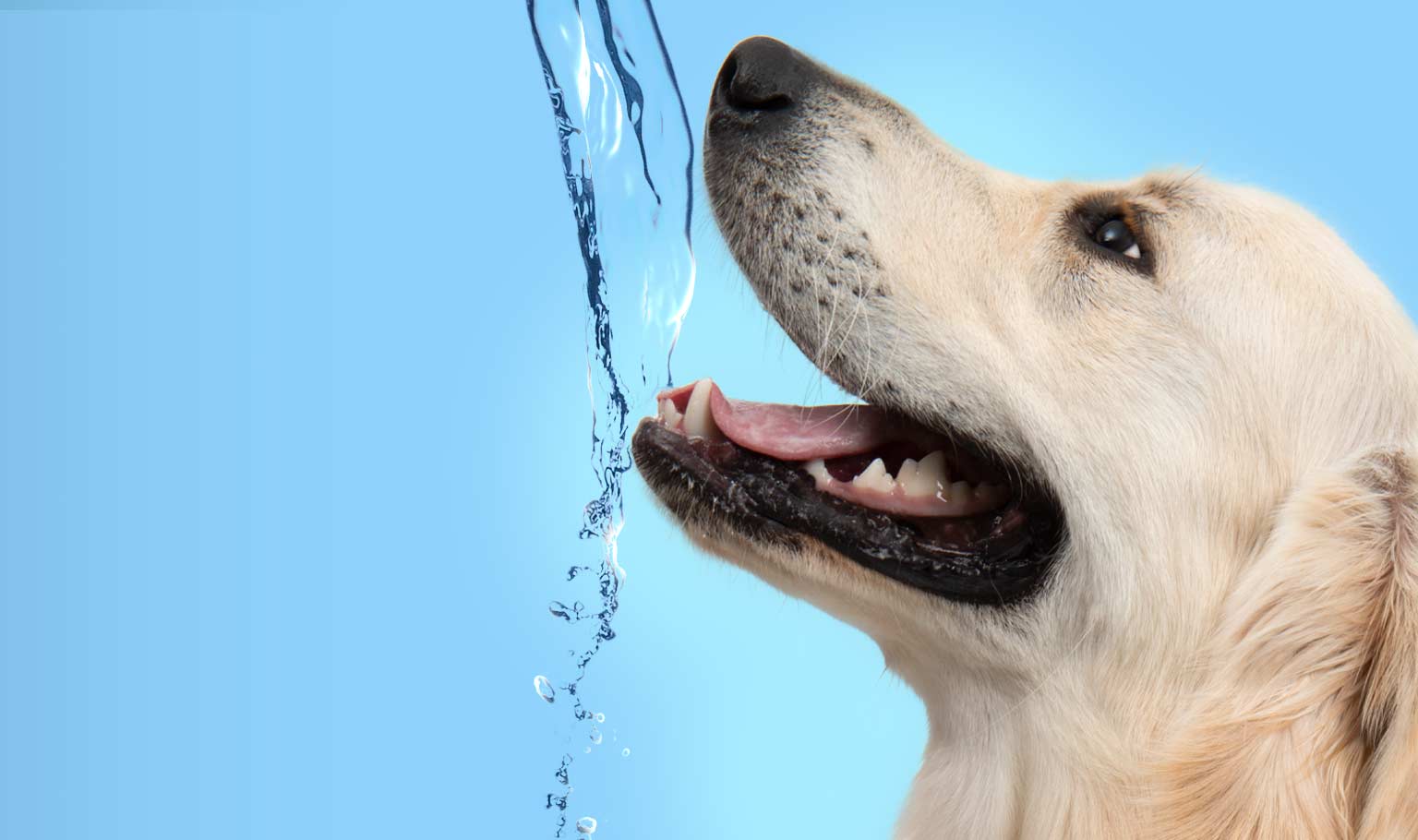 zeus
cascade

drinking
fountain
zeus
cascade

drinking
fountain
STYLISH DRINKING FOUNTAIN FOR medium to large dogs
The Zeus Cascade Drinking Fountain provides your dog with a clean source of continuously flowing water, which naturally stimulates your canine companion to drink more. It has an elevated drinking surface that is simply ideal for medium to large dogs.
1. zeus cascade fountain with stainless steel top
This Zeus Cascade drinking fountain strikes the perfect balance between beautifully reflective stainless steel and a glossy black outer rim, making for a very sleek presence in your living area. Equipped with all great features of the original Zeus Cascade fountain, such as large reservoir, multiple drinking options and convenient water level window, this version offers a hygienic stainless steel top to boot.
6l reservoir at ergonomic height for large dogs
The Zeus Cascade fountain features a large 6L reservoir with elevated drinking surface that perfectly accommodates large dog breeds, older dogs, and dogs with muscle or joint problems. The reservoir features a water level window so you'll know at a glance when a refill is due.
The high-grade stainless steel top offers a clean drinking surface that helps inhibit bacterial growth. Stainless steel is also very suitable for dogs with sensitive skin, as they may develop an allergy to plastic surfaces over time.
triple action filtration
The included filter cartridge helps keep your dog's drinking water crisp and clean in three ways. Replace the filter every 30 days for best results.
two water flow settings
The Zeus Cascade fountain offers two water flow settings to stimulate your dog to drink more.
By default, the fountain will produce a gentle flow of water.
You can create a bubbling top by inserting the accessory included with the fountain.
Dishwasher-safe top
Put the steel top cover in the dishwasher when it needs cleaning, while you enjoy some extra time with your dog.
2. zeus cascade fountain
This Cascade fountain version with striking blue top is sure to appeal. With large 6L reservoir, 2 water flow settings and convenient water level window, this is the drinking fountain to keep your canine hydrated at all times. Its elevated drinking surface sits at the perfect height for medium to large dog breeds.
recirculating flow
The Zeus Cascade drinking fountain offers a large water-to-air surface area that allows for greater oxygenation and fresher drinking water. The recirculating flow makes it so only clean water is pushed to the top and made accessible to your dog.
TRIPLE ACTION FILTER
The fountain includes a triple action filter cartridge that expertly purifies the water in three different ways. The filtration is most efficient when the filter is replaced once a month, or when visibly saturated.
two water flow settings
Switch between the fountain's two water flow settings to keep things interesting and to entice your dog to drink.
In its default setting, the drinking fountain offers a calm and steady water flow.
Insert the accessory provided to have the water come out in a more dynamic, bubbling fashion.
Technical specifications
---
Zeus Cascade Drinking Fountain
Blue top – #91400
Stainless Steel Top – #91405
Measurements: 12.2 x 9.9 x 7 in / 31 x 25,3 x 18 cm (WxDxH)
Weight: 1.46 lb / 664 g
Reservoir capacity: 200 fl oz / 6L
North-America: 100V-240V ~/7.125-7.875VA, 50/60Hz, 500mA
Europe: 100V-240V ~/7.125-7.875VA, 50/60Hz, 500mA
2 water flow settings
Includes Zeus Triple Action Fountain Filter
Backlit water level window
Quiet, low voltage pump
Zeus Cascade Fountain with Stainless Steel Top – dishwasher-safe top
Certifications and symbols
Blue top
Stainless Steel Top